What We Offer: Membership
The Mount Pearl Tennis Club offers social and competitive tennis opportunities for juniors and adult players through the summer tennis season. The club opens in June, with adult programming starting shortly afterwards and running into September. While junior programming begins once school is complete, continuing until the week before school resumes.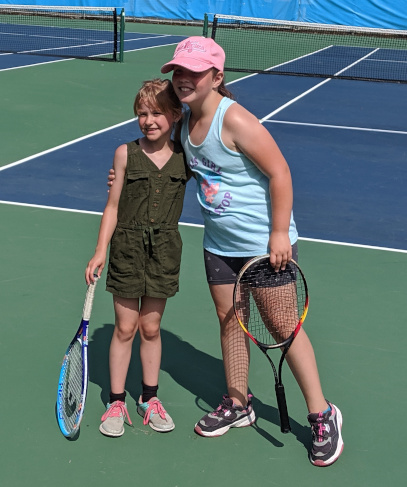 Membership is open to anyone from any municipality and all skill levels are welcome. Junior lessons are included in junior membership, and are offered by certified coaches and volunteers. Group adult lessons are also available as an option for adult members. The leagues and tournament offerings vary from year to year, but you can expect a few closed (club only tournaments), plus at least one open tournament each season.
The club also offers Pickleball for members wishing to try out this new sport. The club currently has two dedicated Pickleball courts and is working on developing programming for Pickleball as well. There is equipment available to borrow to try it out.
The club often offers social tennis opportunities called mixers, which are drop in events for particular types of tennis, or for particular audiences. For doubles, teams are often "mixed up" throughout the evening to allow lots of opportunity to play with and against a number of different people. Mixers are not leagues or tournaments, and are not as competitive as a normal match. It is a great way to learn how to play tennis, and meet some new people.
Court booking and mixers are also available to non-members provided they pay the drop in fee. You can see a complete list of non-member options on our non-member page.
Pricing and Services
(For the 2022 Season)
Adult Membership (Tennis and Pickleball): $75 per season ($50 for additional adults from the same family)

Pickleball Only: $50 per season

Adult Lessons: $25 per season
Junior Membership: $75 per season (includes lessons) ($50 for each additional junior from the same family)
Non-Member Drop-in Fee (court bookings or mixers): $5 per session
Mixer Events: No cost ($5 for non-members)
Tournaments and Leagues: Varies - Costs communicated before events
Rental: See Rent Our Clubhouse section
Private Lessons: Depends on coach. Visit our Lessons section for more information.